JOYSOUND Karaoke has multilingual support. Sing in the original Japanese by following along with English (Latin) alphabet subtitles.
The JOYSOUND karaoke brand is proud to feature the largest karaoke song catalog in Japan. (*)
Enjoy an incredible JOYSOUND karaoke experience in Japan, even if you can't read Japanese.
*Based on our own research (As of 2020)
Foreign -Multilingual Uses
You can choose songs in English, Traditional Chinese (繁体字), Simplified Chinese (簡体字), and Korean (한글) on the JOYSOUND control tablet, called the "JOYPad". Vietnamese and Thai songs are also available via the Others button.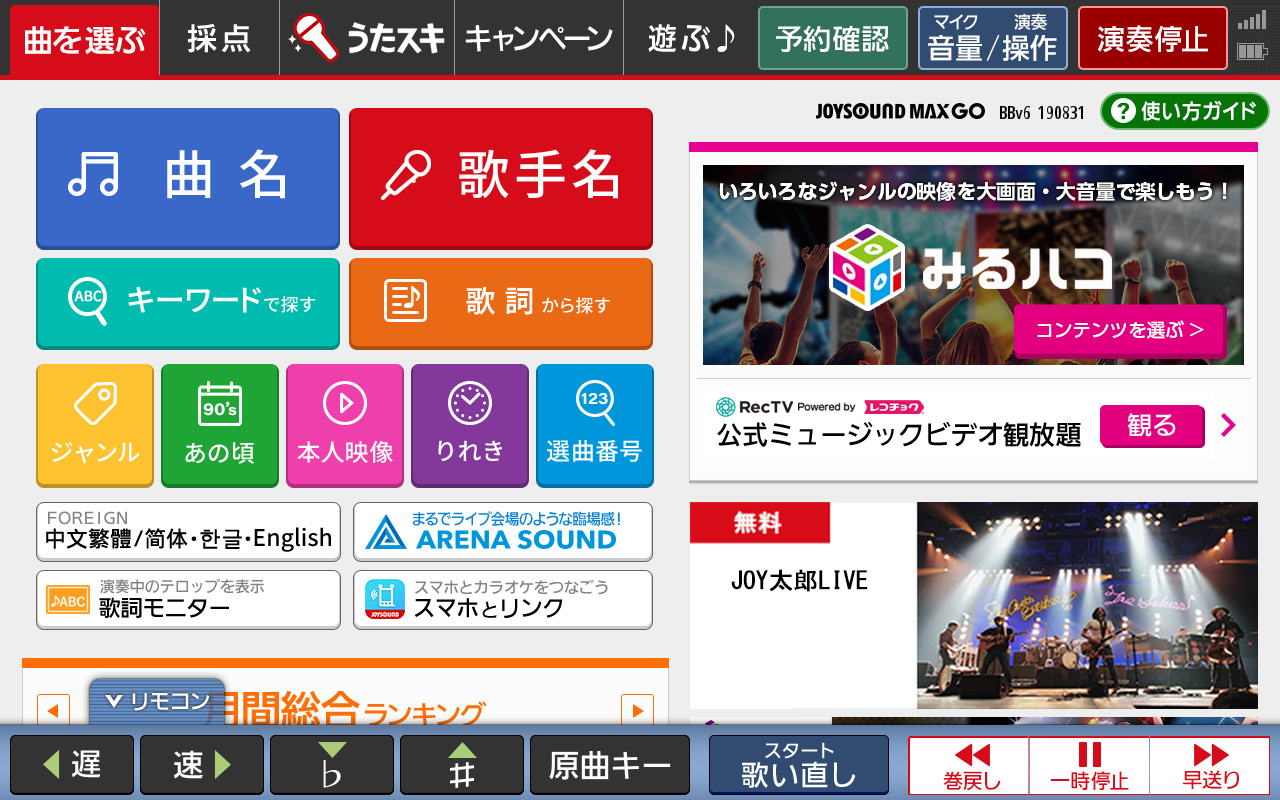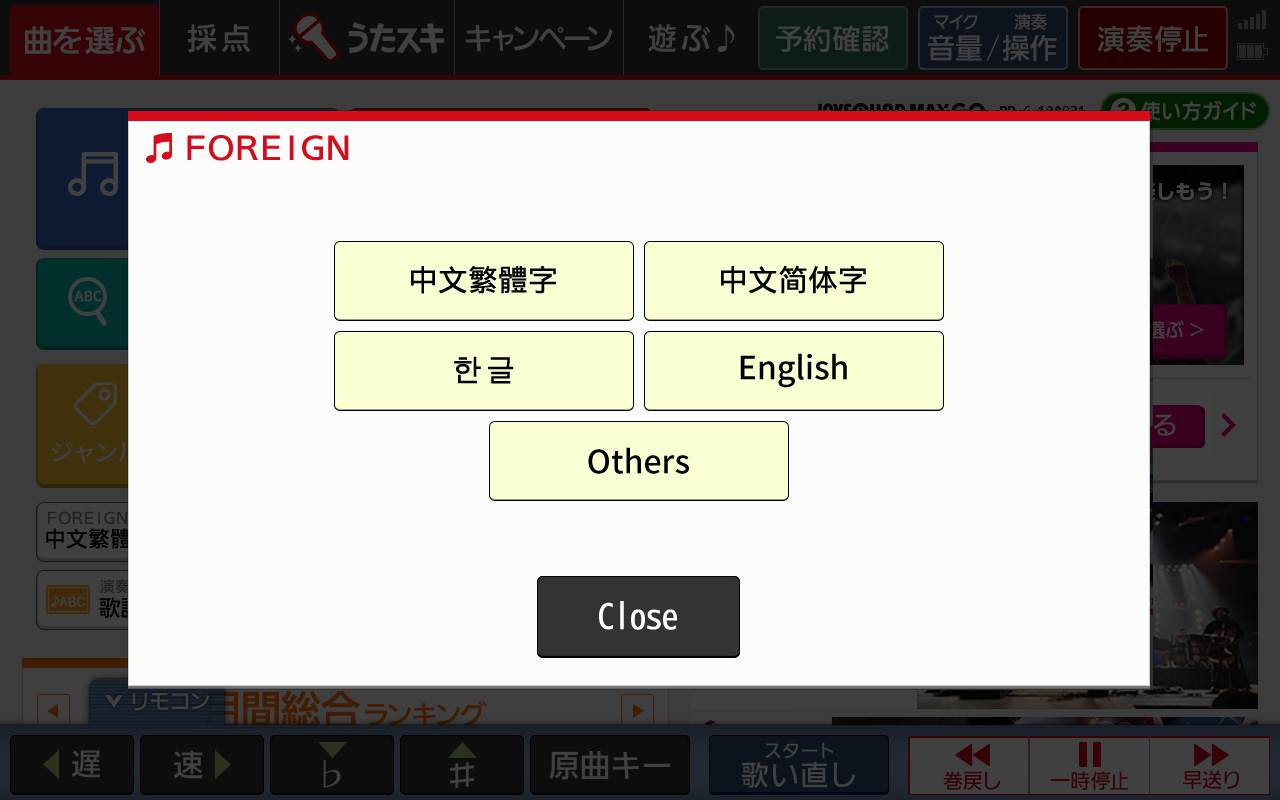 Sing along with help from the Latin alphabet.
Select a song to sing on the search screen from each language. Song lyrics automatically display English (Latin) alphabet letters as pronunciation guides, allowing you to sing without knowing a word of Japanese.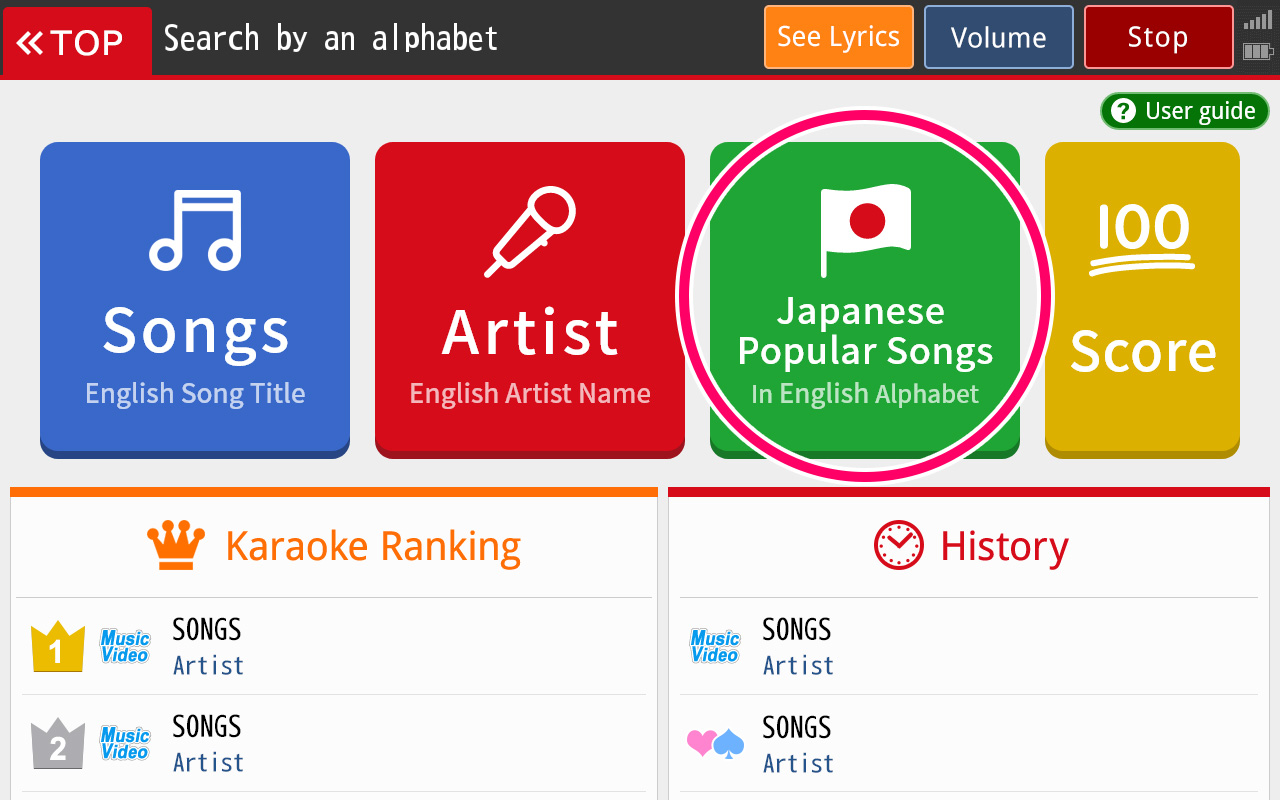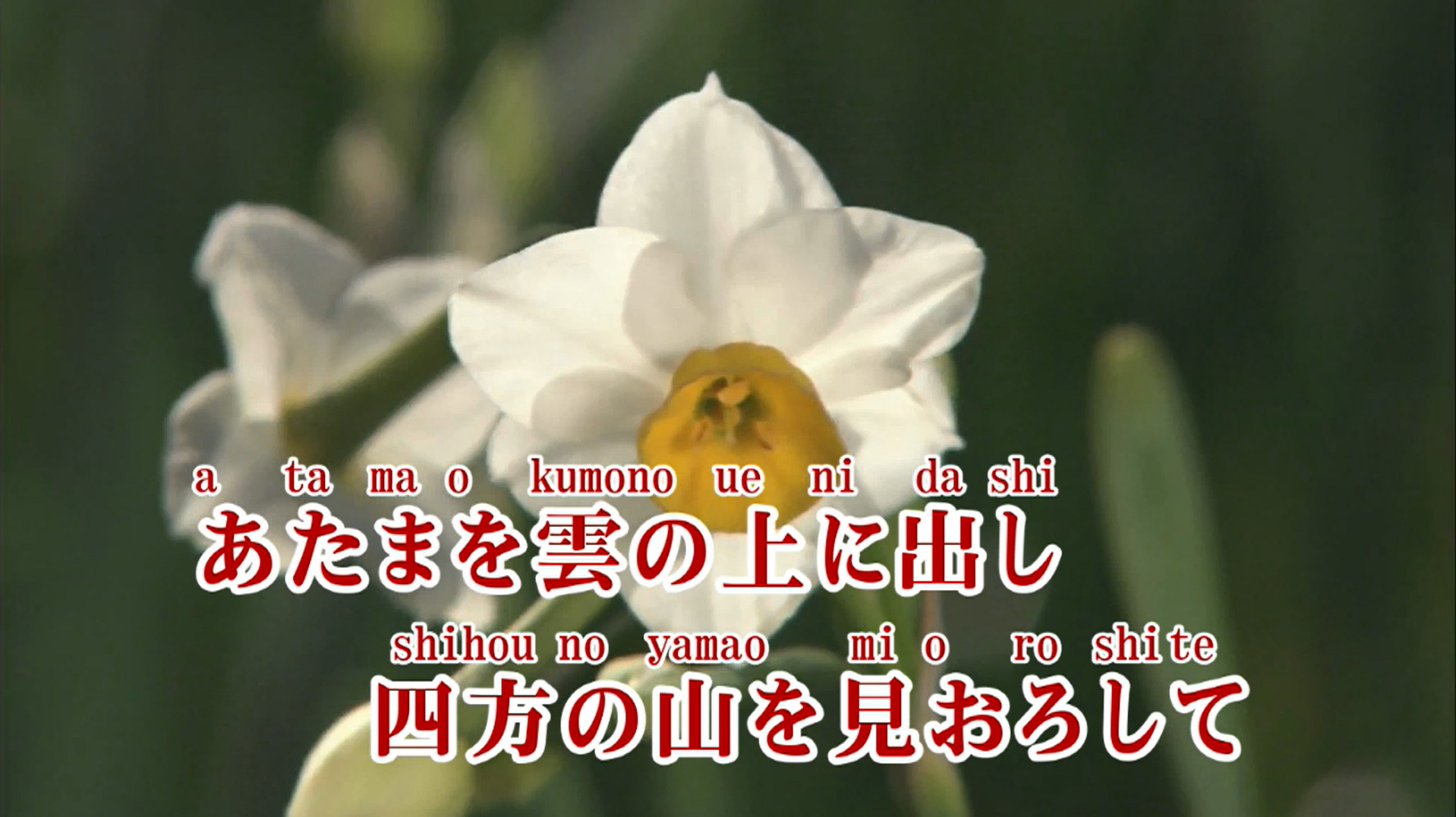 Press this button to display lyrics in the Latin alphabet when choosing a song on the Japanese search screen.
You can select from over 300,000 songs in JOYSOUND karaoke, but ONLY while in Japanese search mode.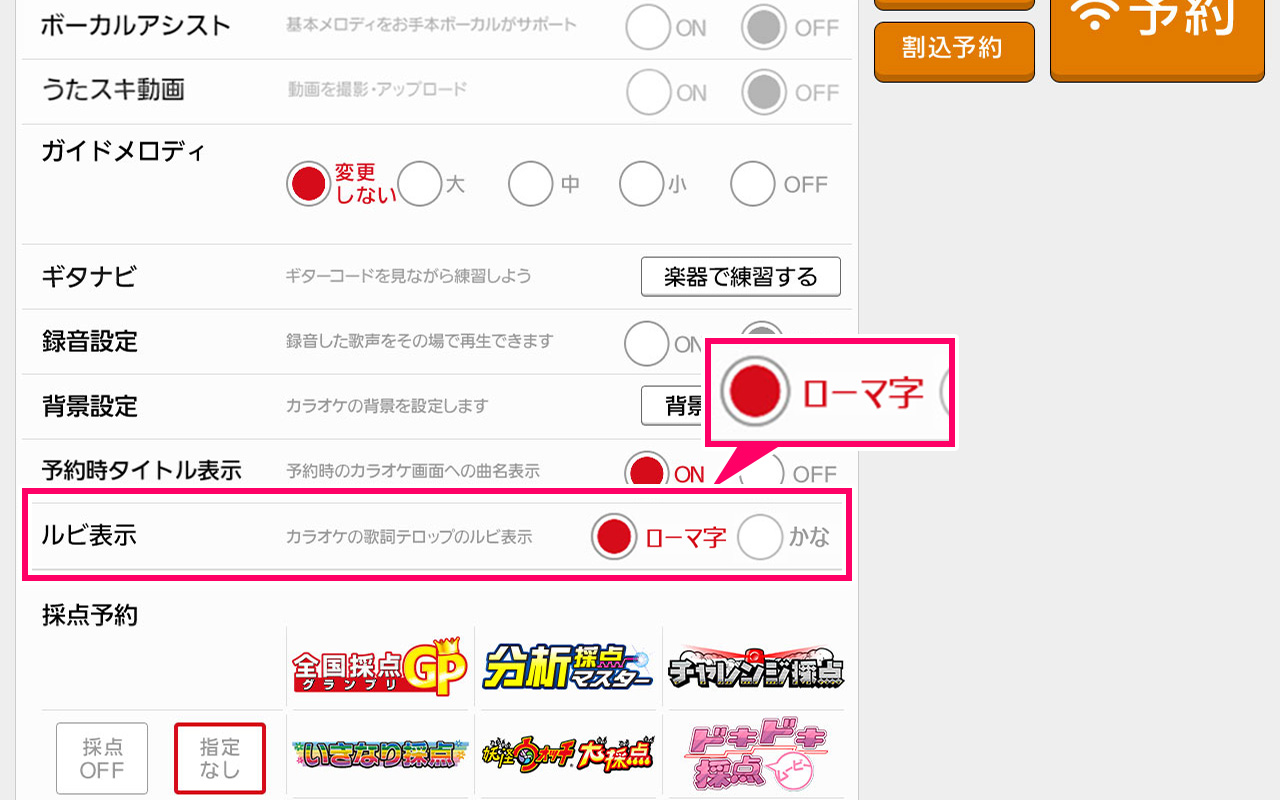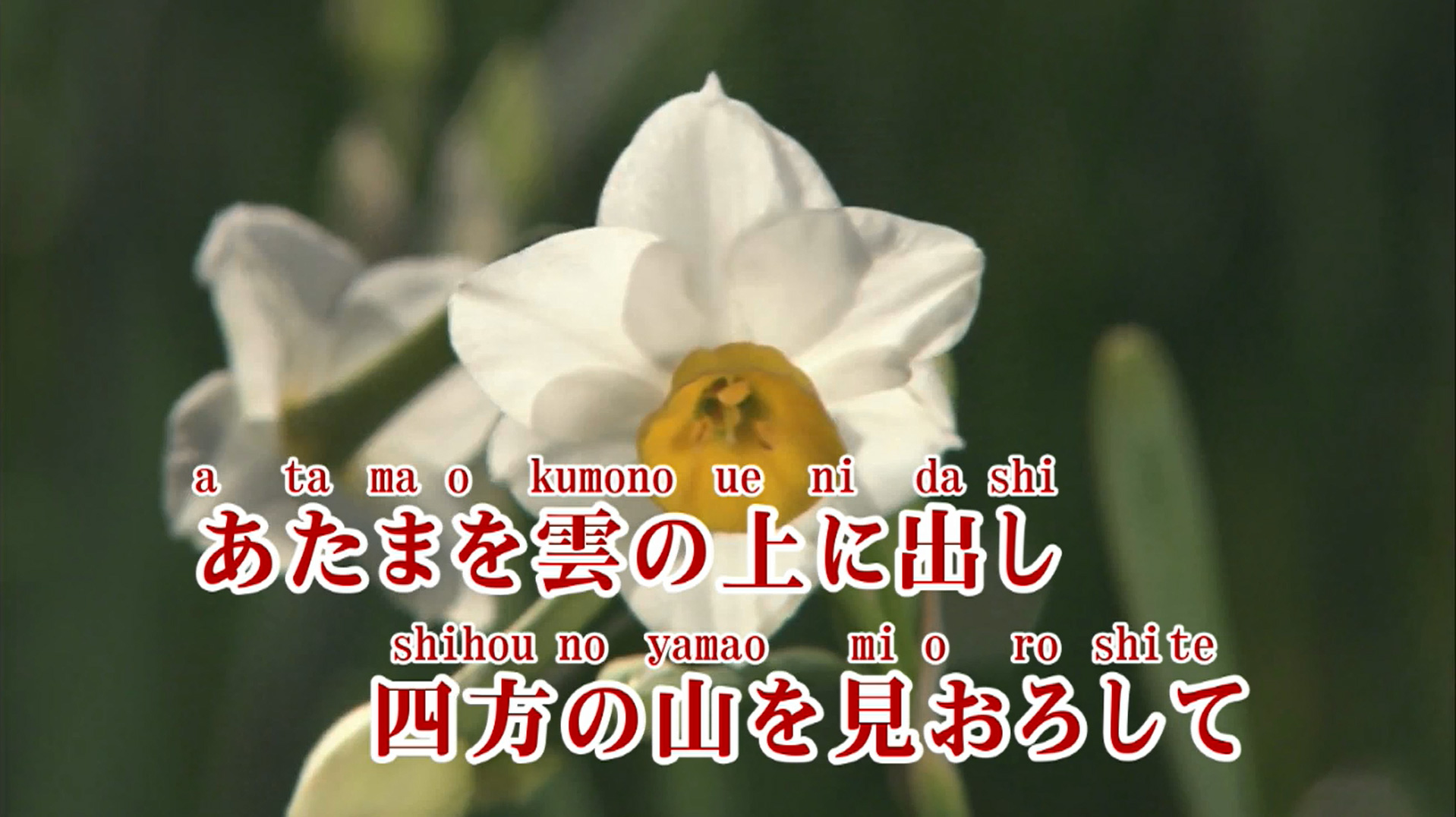 *Some songs are incompatible with Japanese Ruby subtitles.
JOYSOUND Popular Karaoke Songs
J-POP

Lemon
Yonezu Kenshi (米津玄師)

1st place in JOYSOUND 2018 and 2019 karaoke rankings!

Ito (糸)
Nakajima Miyuki (中島みゆき)

A masterpiece beloved by people all over Japan, even more than 25 years after its release!

Togetsukyou ~Kimi Omou~ (渡月橋 ~君 想ふ~)
Kuraki Mai (倉木麻衣)

Theme song from the movie "Detective Conan: The Crimson Love Letter". The use of traditional Japanese musical instruments in this song adds to its charm.

The Beginning
ONE OK ROCK

Theme song for the live-action movie "Rurouni Kenshin"!

Enka (演歌)

Kawa no nagare no youni (川の流れのように)
Misora Hibari (美空ひばり)

Amagi goe (天城越え)
Ishikawa Sayuri (石川さゆり)

Yosaku (与作)
Kitajima Saburo (北島三郎)

The lyrics of this song are unique and engaging.

Kita sakaba (北坂場)
Hosokawa Takashi (細川たかし)

Kiyoshi no Zundoko bushi(きよしのズンドコ節)
Hikawa Kiyoshi(氷川きよし)

Anime (アニメ)

Zankoku na tenshi no teeze (残酷な天使のテーゼ)
Takahashi Yoko (高橋洋子)

-Neon Genesis Evangelion(新世紀エヴァンゲリオン) The English title is "A Cruel Angel's Thesis" and is well-known as the opening theme of TV anime series "Neon Genesis Evangelion".

Butter-Fly
和田光司

-Digimon Adventure(デジモンアドベンチャー)

THE HERO !! ~怒れる拳に火をつけろ~
JAM Project

-One-Punch Man(ワンパンマン)

again
YUI

-Fullmetal Alchemist: Brotherhood(鋼の錬金術師 FULLMETAL ALCHEMIST)

only my railgun
fripSide

-A Certain Scientific Railgun(とある科学の超電磁砲)

Extra *ONLY IN JAPANESE SEARCH MODE

Sound Horizon, Linked Horizon

"Sound Horizon" is a Japanese group whose composer Revo has enthusiastic fans all over the world.
JOYSOUND provides songs of "Sound Horizon" and "Linked Horizon", and their lyric fonts are exclusive to JOYSOUND!
JOYSOUND.com: Sound Horizon Special page.
User guide -Learning how to enjoy karaoke
For questions on usage, push "User Guide" in the upper right of TOP screen in each language!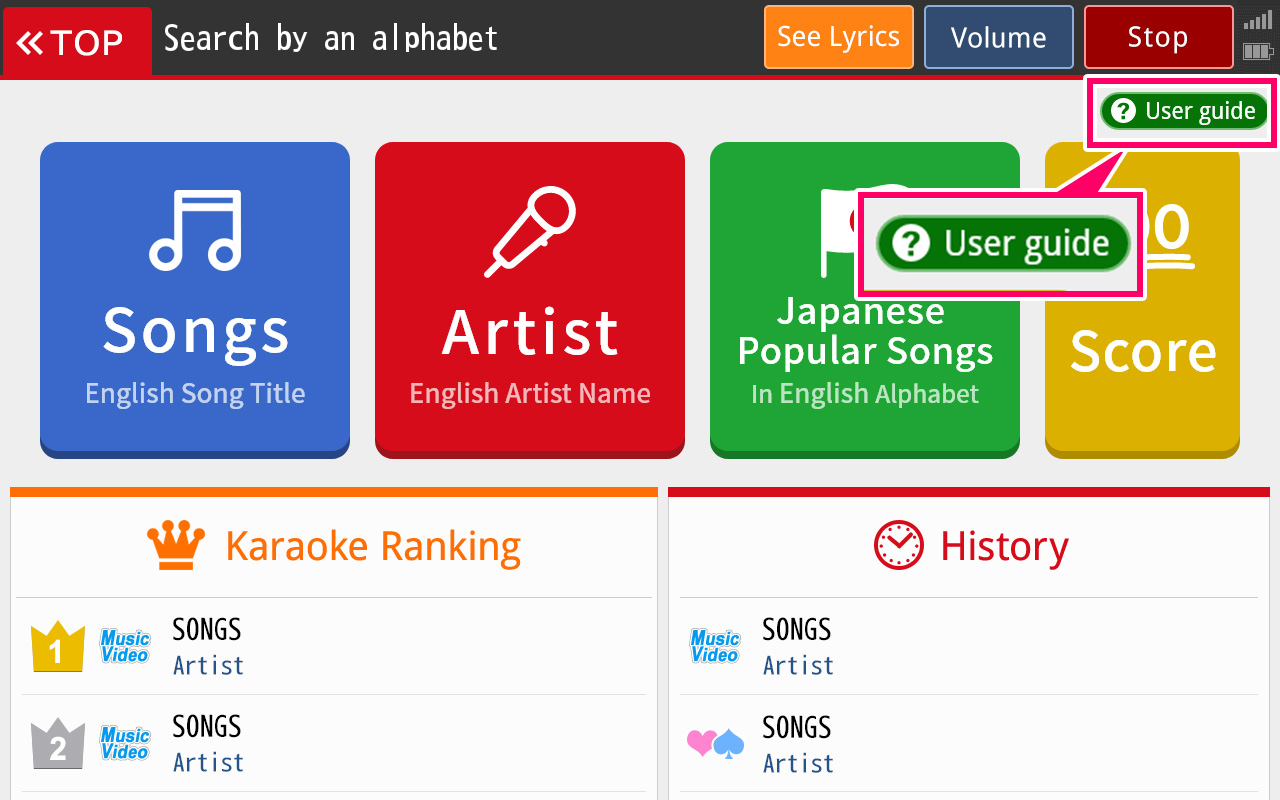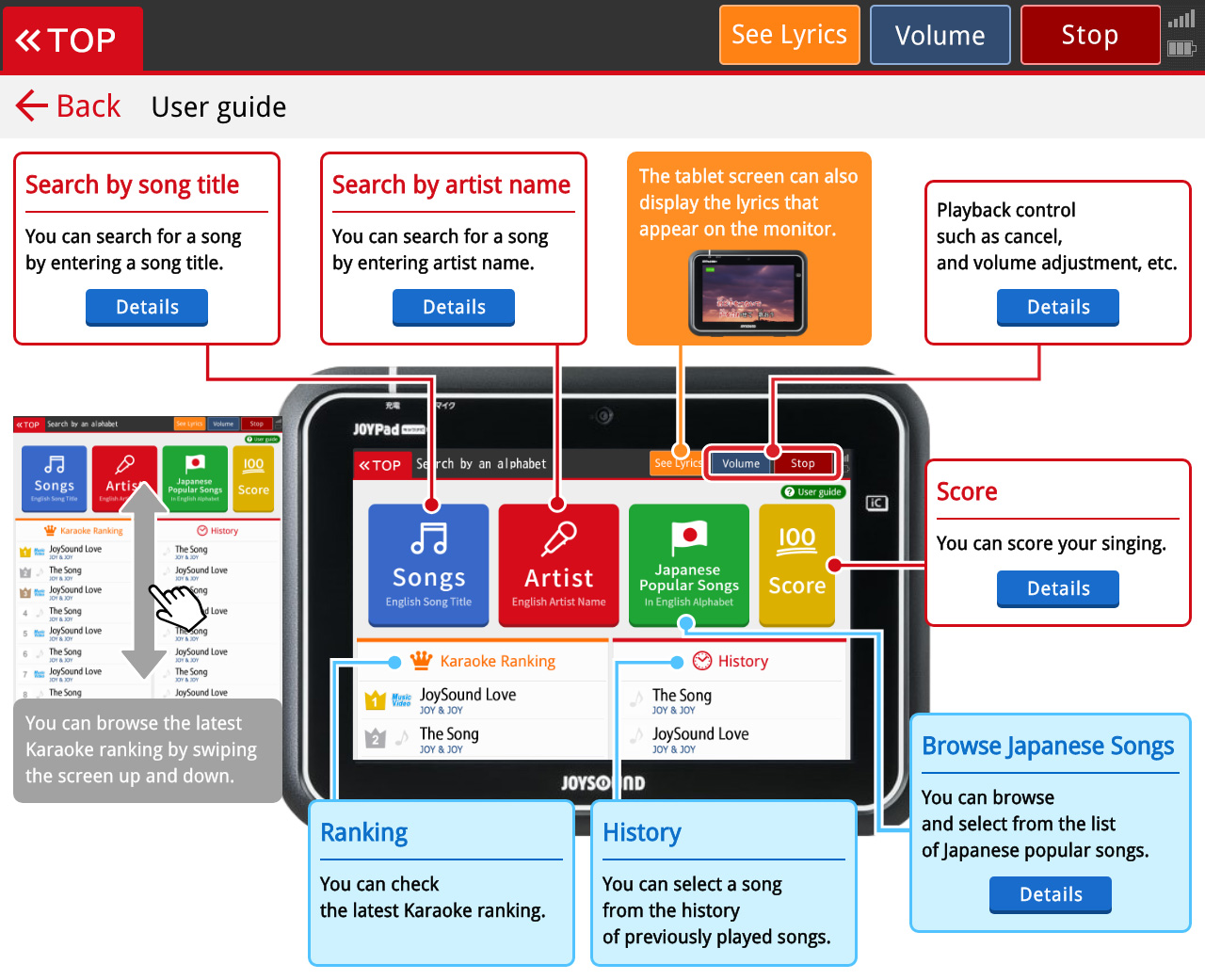 Volume and Settings
Adjust settings such as volume and key changes at the upper right of each language's TOP screen!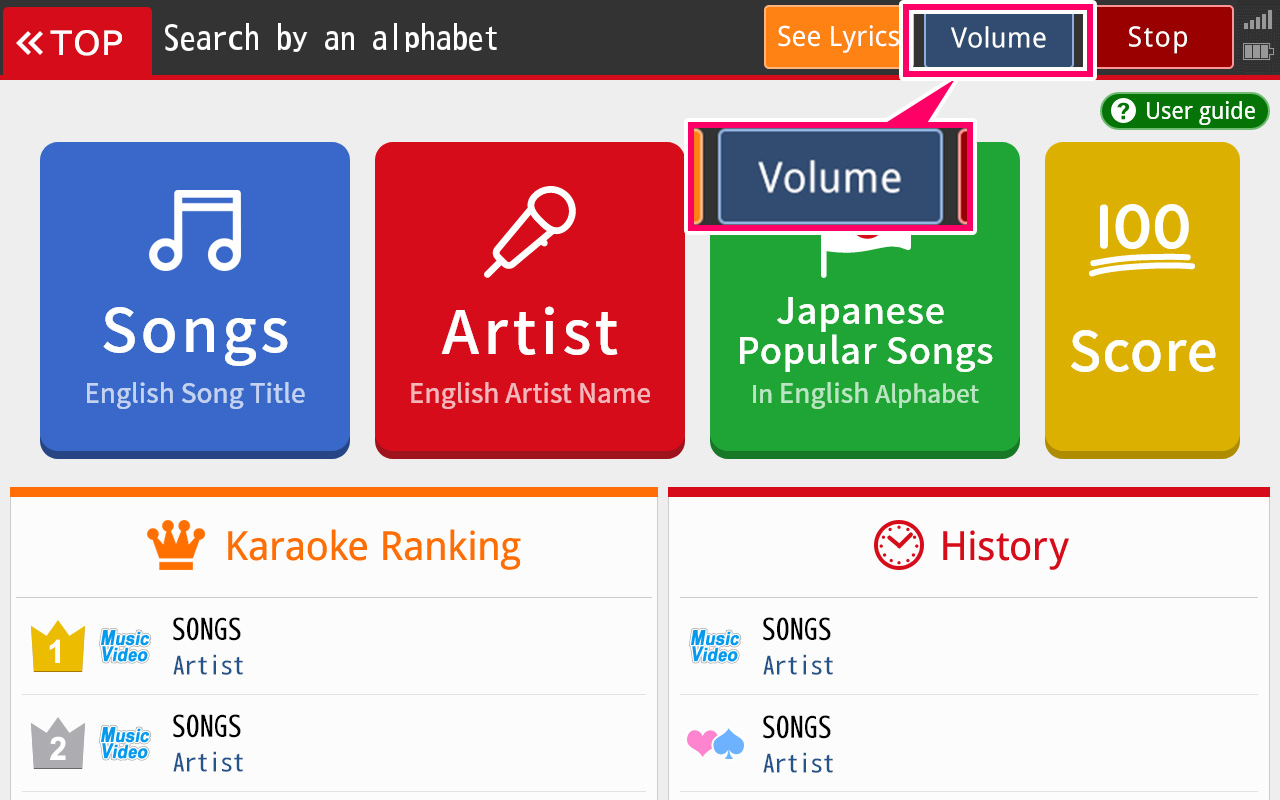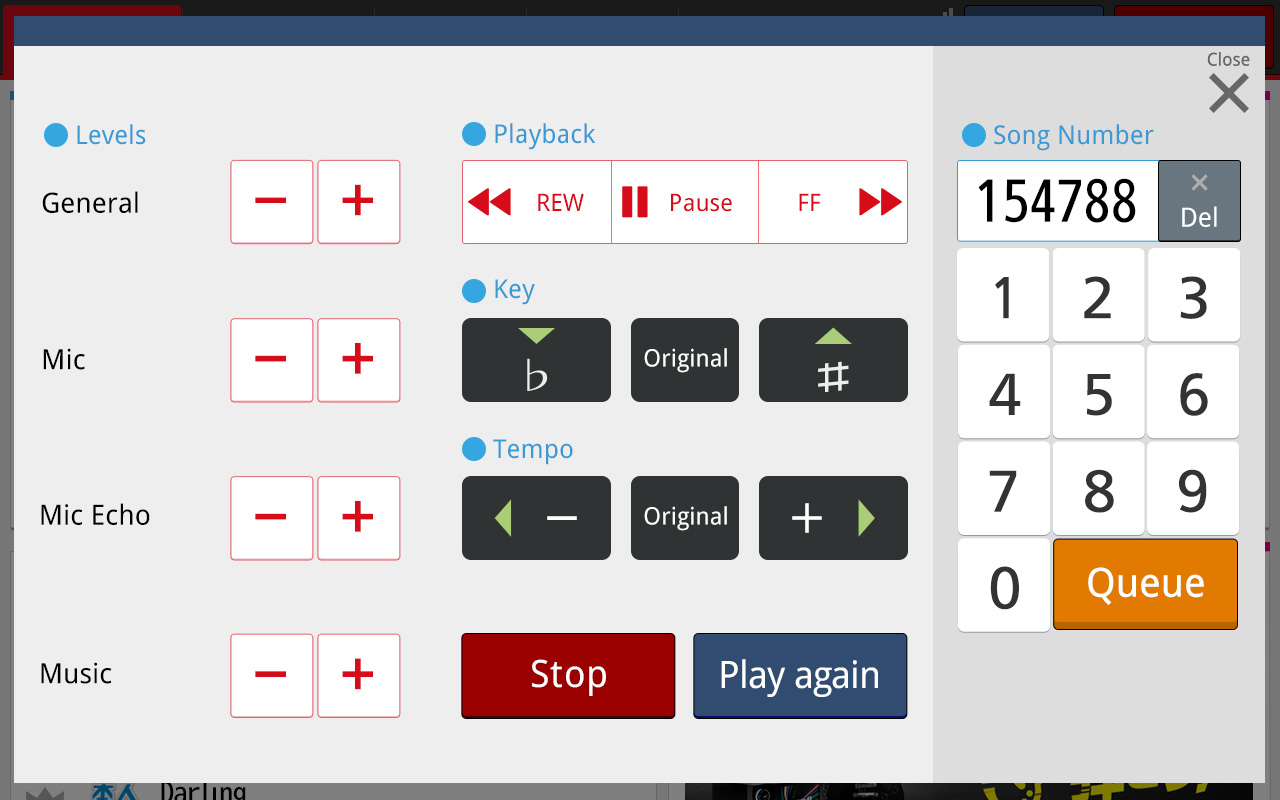 See Lyrics
Can't make out the lyrics on the TV screen? No problem. The JOYPad can be used to easily display lyrics.
Just use the "See Lyrics" button on the JOYPad tablet.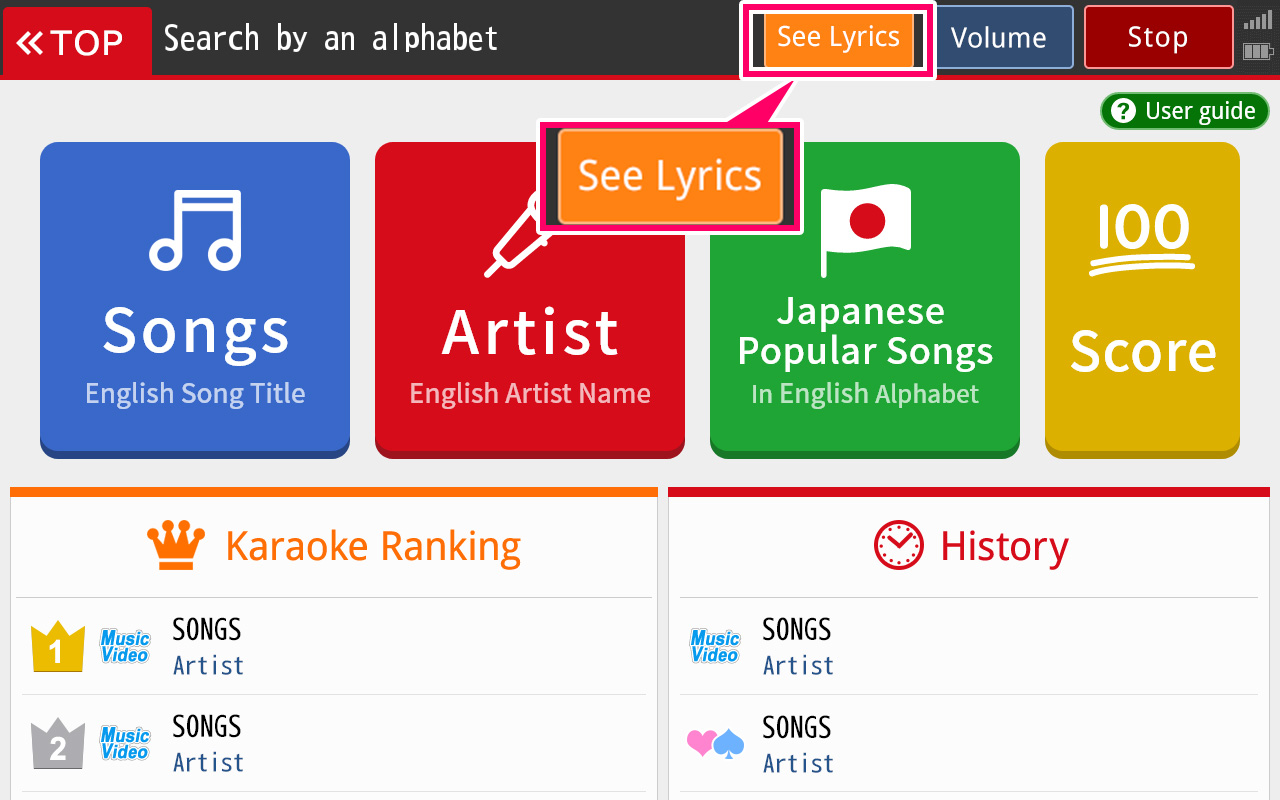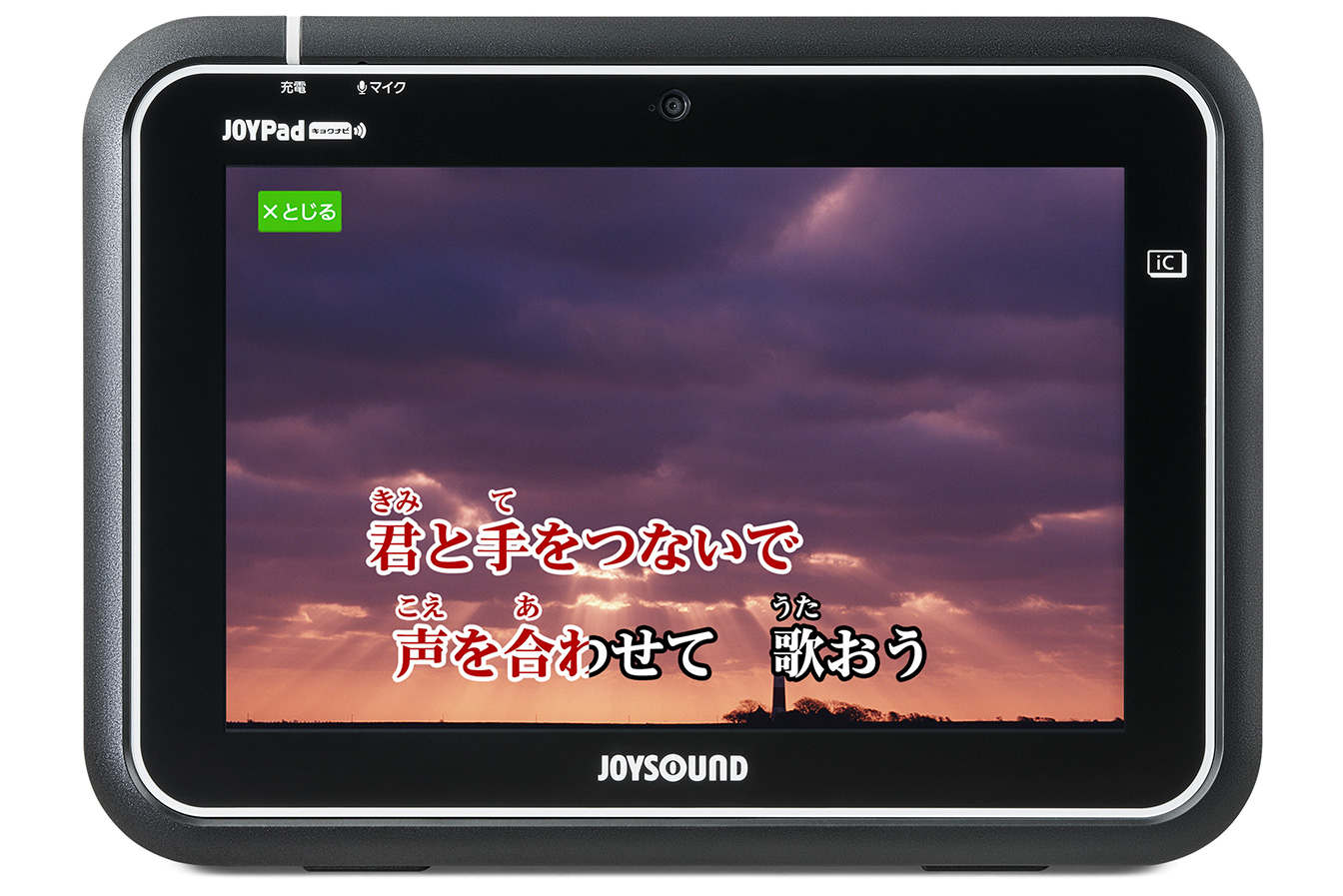 Improve your JOYSOUND and Japanese karaoke experience by rating and scoring your performances!
Scoring
Scoring your karaoke performance is a great way to add another level of enjoyment to your visit. To get started, press the "Score" button (評分/评分/체점) on the Top screen for each language. Then, select "Start scoring" and just SING your heart out. When you want to leave scoring mode, press "Exit scoring".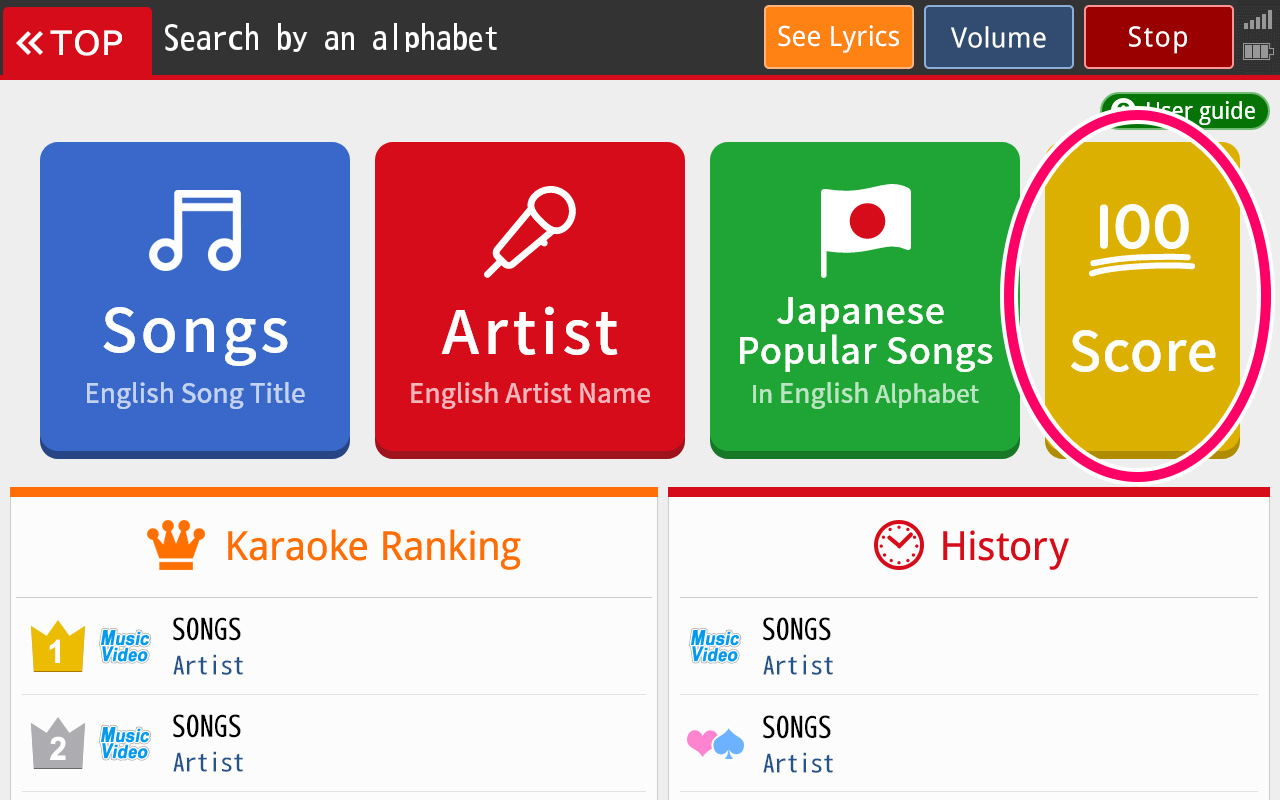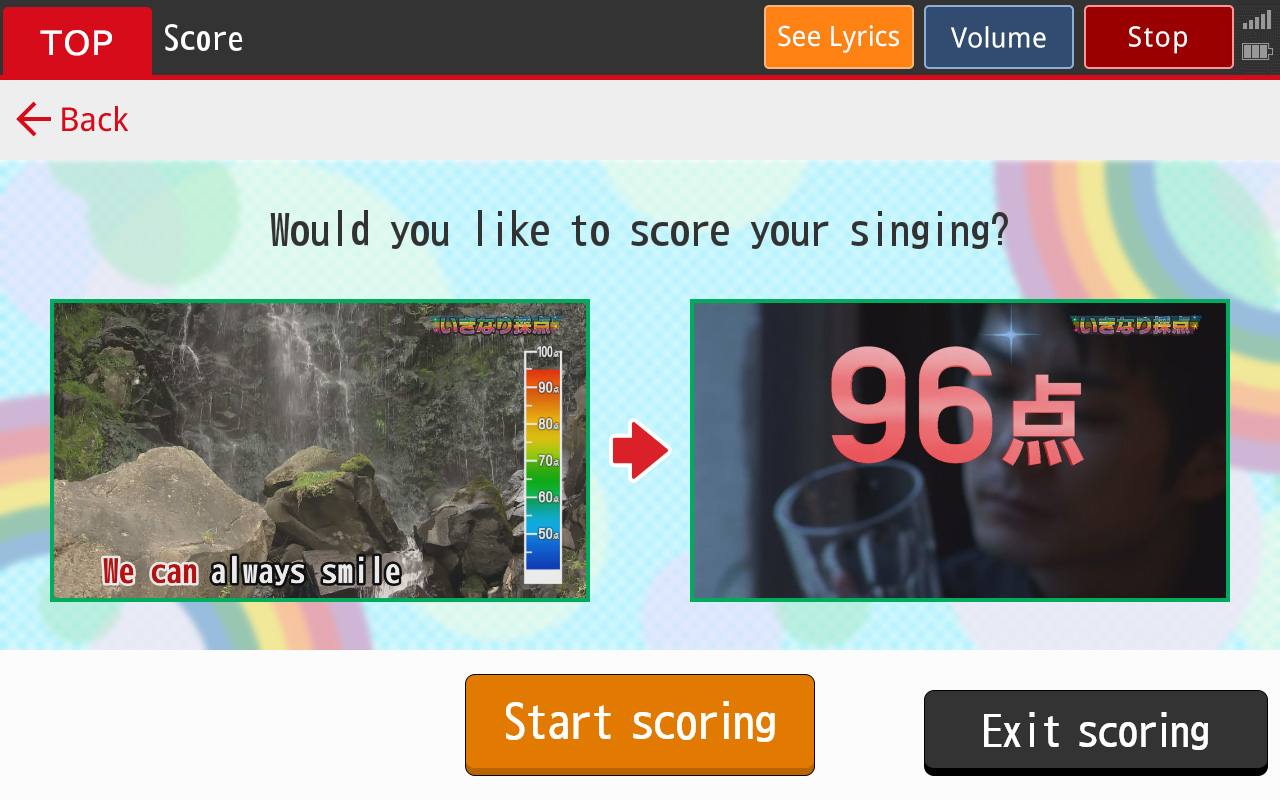 [TV screen of Scoring mode]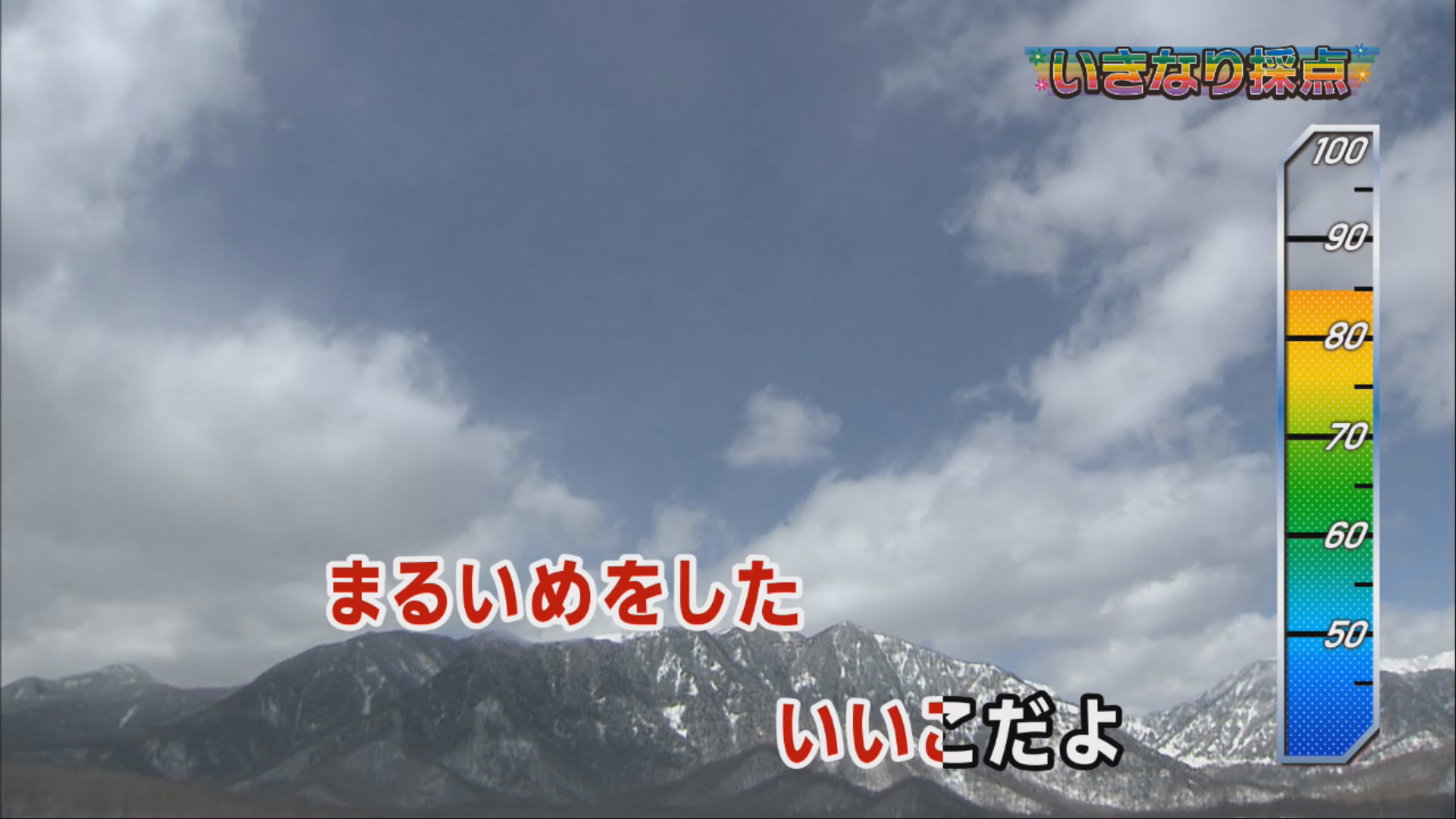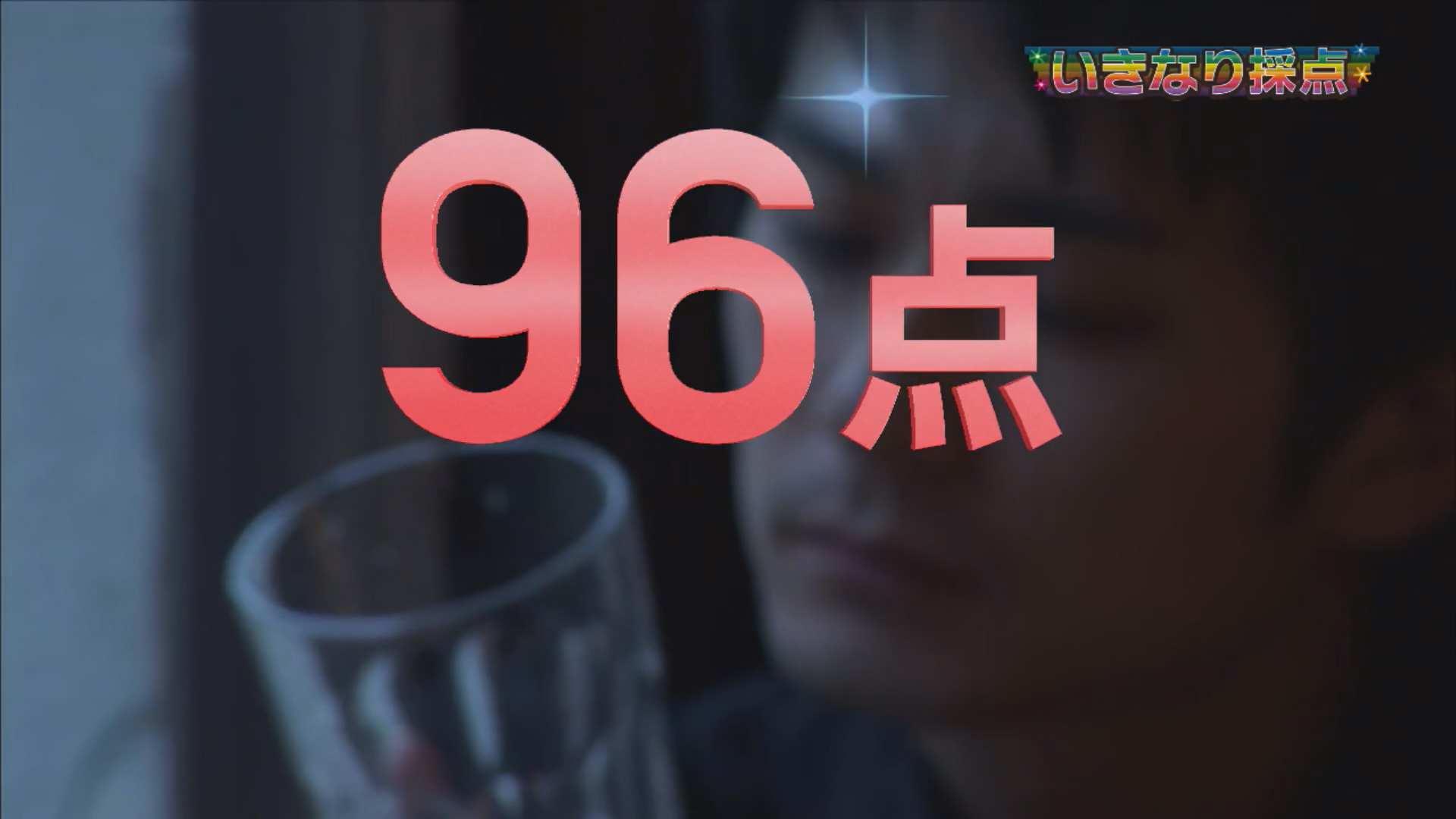 More scoring details
*ONLY IN JAPANESE SEARCH MODE
"Analysis Scoring" (Bunseki Saiten Masta 分析採点マスター)
Learn more! When you sing in Analysis Scoring Mode, the bar showing pitch is displayed on the screen with lyrics. This bar lets you know how well your voice matches the key of the song. Match it perfectly and the bar will sparkle! Stay in the correct key while crooning your heart away to further hone your singing skills!
(1) Scoring mode will display Pitch, Stability, Intonation, Long tone, Technique.
Root out your weak spots and polish your strong points.
(2) Find your key! Compare the vocal range of a song to your own personal vocal range.