JOYSOUND is Japan's first online karaoke brand.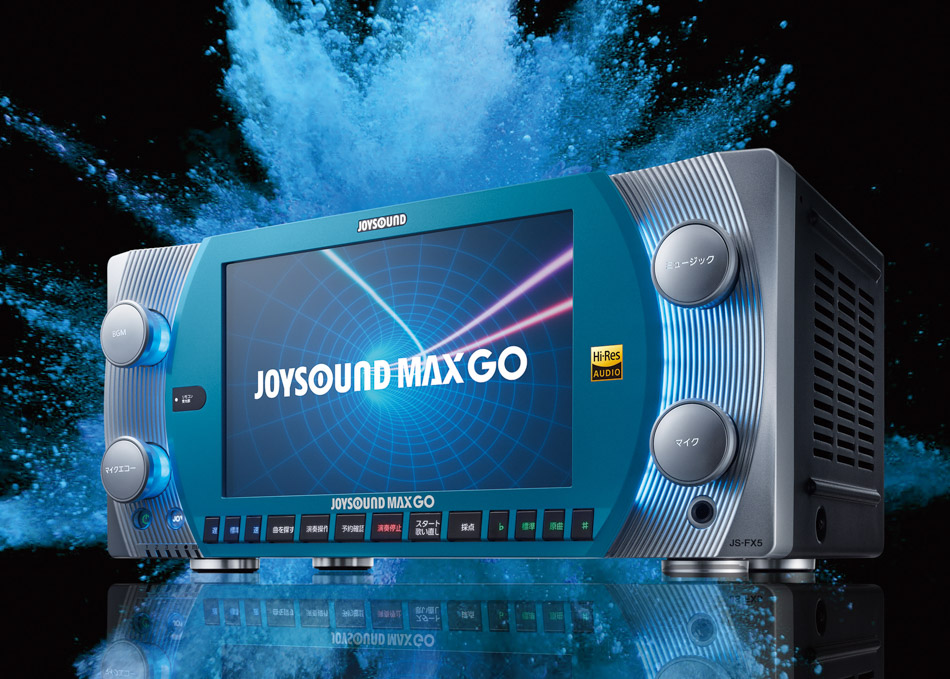 JOYSOUND is a premier Japanese karaoke brand created by XING INC., a pioneer in the field of providing musical entertainment and content, and a subsidiary of Brother Industries, Ltd.
Formed in 1992, JOYSOUND became Japan's first online karaoke brand. Until that time, the Japanese karaoke industry utilized physical media such as cassettes, CDs and LaserDiscs for shop and home use.
A Brother Industries, Ltd. venture team transformed this analog market by developing revolutionary new techniques for digitizing songs to the MIDI format and employing networks for broadcasting new songs, allowing users swift access to a large number of just-released music to which they could sing along, thus launching Japan's karaoke boom.
This boom has expanded along with the growth of high speed networks, and continues to spread across the world. For business use karaoke (Japan domestic market), we currently boast a massive music catalog of more than 310,000 songs (*1), more than anyone else in the industry, making it possible to enjoy singing not only Japanese tunes, but songs from all over the world.
(*1) as of Mar 2020, based on our own research.
The "Hi-Res Audio" logo has been licensed in agreement with the Japan Audio Society. The music is the material waveform of the CD specifications converted into a high-resolution equivalent through the use of sound processing.
What is Japanese karaoke?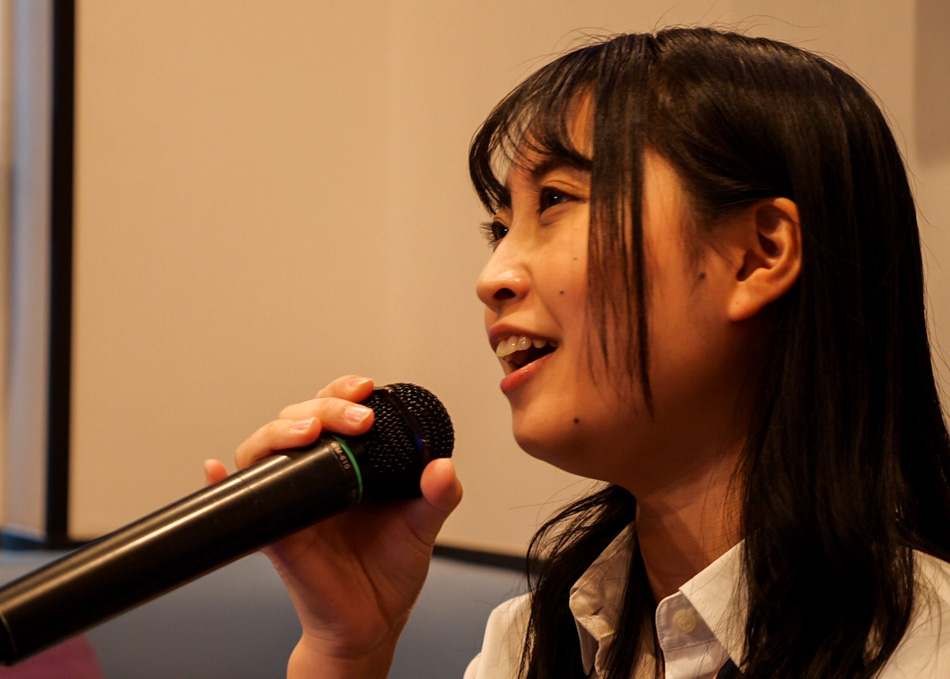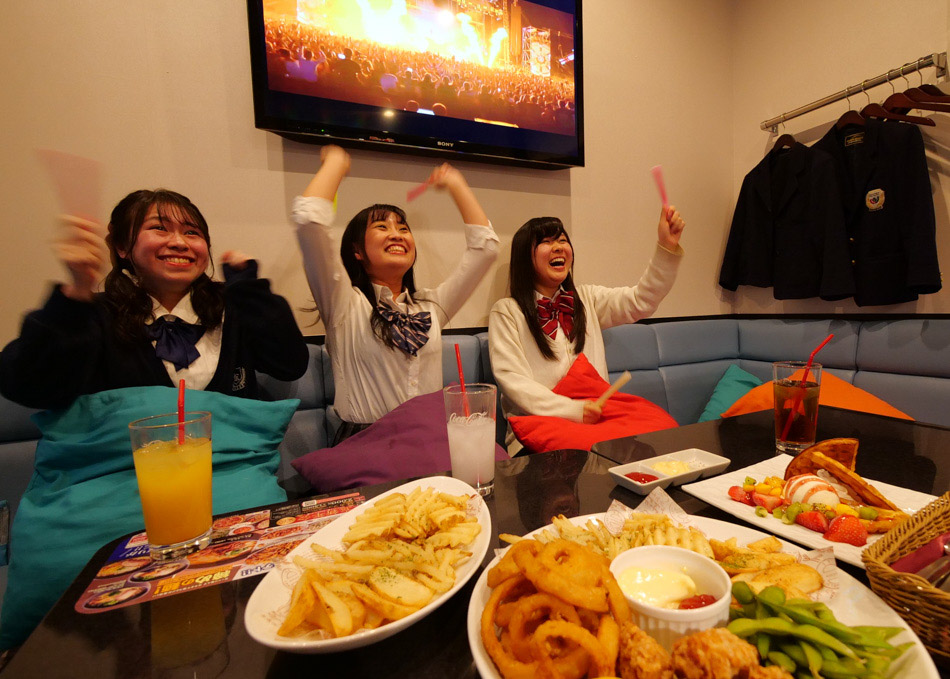 Karaoke was born in Japan--so we know what we're doing. Singing along to your favorite songs is a popular diversion here, no matter your age.
Karaoke maker JOYSOUND launched the world's first online karaoke service.
About JOYSOUND
Karaoke shops boast a multitude of exciting features. Top shelf food and incredible lighting make you feel as if you were at a nightclub.
If you want to enjoy a national pastime and experience the phenomenal nightlife of Japan, why not give a Karaoke shop a try?
Many modern karaoke systems even have the functionality of allowing musical instruments like guitars to be hooked up. Private rooms can be used for business meetings, screening rooms, whatever you like.
Party down with your pals, or even try "Hitokara", where you sing alone.
Try out your cosplaying skills or enjoy unique anime-themed concept rooms.
JOYSOUND has multi foreign language support and interfaces.
JOYSOUND Karaoke has multilingual support.
This page shows you how to get the most out of your karaoke adventure, as well as experience authentic Japanese culture in a fun and engaging way!
Where can we enjoy karaoke?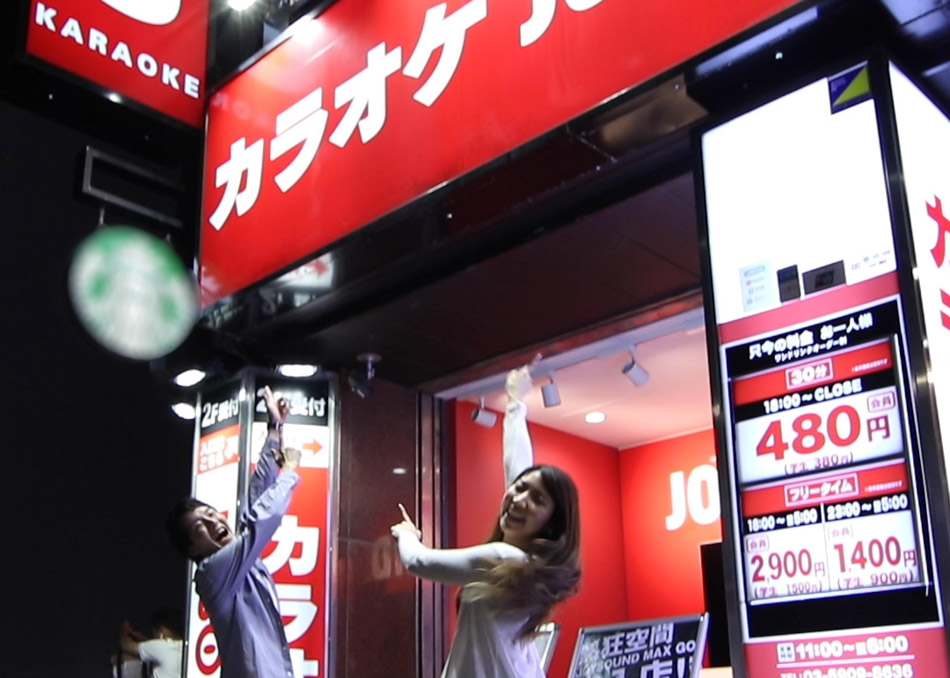 Short answer: Karaoke can be experienced almost anywhere in Japan. Typical karaoke shops involve several individual rooms or "boxes" where a large number of people gather together in a private space which is equipped with a full karaoke system.
Famous chain shops are quite affordable and can be found near most train stations and metropolitan areas, such as Shinjuku, Shibuya, Ginza and Roppongi in the Tokyo locale.
Karaoke may also be available in pubs and Japanese-style bars, or "snacks" as they are called.
Check the sign out front to see if Karaoke is available. There is typically a host or hostess at these types of establishments and you can enjoy singing in front of other customers. What a way to get a true taste of Japanese nightlife.
How to Enjoy Karaoke in Japan
how_to_reg At Reception

Most karaoke shops have a reception desk up front. After warmly greeting you, the staff here will inquire as to the type of service you want. Process and pricing schemes may differ by shop. It may be intimidating for first-time users, but we'll outline the general rules on this page!

MEMBER OR ONE-TIME USER?

You may be asked at reception if you are a regular member or a one-time user.
A benefit of becoming a member of a major chain shop is you can enjoy it at the slightly less-expensive "member price" during that visit, as well as future visits at other shops in the chain.
If you plan on visiting karaoke many times during your stay in Japan, it's probably worth your while to become a member. However, please note that in some shops the registration form is only written in Japanese.

How long will you stay? How many in your party?

In most karaoke shops, price per person is displayed at 30 minute or hourly increments. Most shops have a fixed price per hour. Check the price per person on the sign in front of the store. For example, if the price is 200 yen for 30 minutes, if you sing for 2 hours, your total will be 200 yen x 4 = 800 yen per person.
So three people singing for two hours would total 800 x 3 = 2,400 yen. Most shops charge a higher hourly rate at night and on the weekends. Your room size is also frequently determined by the number of people in your group.

CHOOSE JOYSOUND!

There are several karaoke brands in Japan, and our recommendation is, of course, JOYSOUND!
Did you come to sing some ANIME, but don't understand Japanese? No problem! All our JOYSOUND Japanese songs have English subtitles.
When checking in at reception, just say "I want to use JOYSOUND"!
During busy times like weekends, it may be difficult to find a free room, so try to reserve a room by phone.

"Free time" System

Some shops in Japan have introduced what is called a "free time" system in which customers can sing for as long as they want for a flat fee during the "free time" period. Many shops charge 1,000 to 2,000 yen for "free time".
During busy hours, some shops set a time limit on how long you can sing, so if you plan to stay for an extended time, "free time" can be a great value.

meeting_room GO to your room

Find your room

After checking in, the clerk will assign you a room, usually printed on a receipt strip.
Many shops post a MAP near the reception area. Refer to it to find your assigned room number!
Incidentally some shops also lend out tambourines or maracas, usually given out upon request at the front desk.

Take a look inside the room!

Most karaoke boxes in Japan use a "private room" system, where you can sing, dance and generally go crazy in your private space with family and friends (or just you)!
In the room you'll find a karaoke machine and a control pad for selecting songs. Switch languages to search for songs in English and other languages. (Depends on the machine.)

Find a song!

After finding a favorite song to sing, send it to the song queue.
Use the control pad to search by song name, singer/band name or genre. Once you find your song, send it to the queue! Most karaoke systems allow you to change the language at any point of the process to help in selecting a variety of songs. When the music starts, just grab a mic and start singing! We recommend loading up a couple songs you want to sing to the queue before you start, just to save time.

Check here for more details on how to use and enjoy our karaoke systems!
more details

Eat, drink and be merry!

A wide variety of food and drink can be ordered and enjoyed during your visit to karaoke.
Pizza and pasta are popular choices and of course many locations offer an extensive Japanese menu.
Instead of going to a typical Japanese restaurant or izakaya, how about having a unique cultural experience by dining in your karaoke box?
To place your order, let the staff know what you'd like with the in-room telephone. Some shops have a tablet in the room for you to order food while singing. (Some shops may not provide an English menu.)

"One-drink" or minimum order system

Some shops ask that each customer purchase at least "one drink" or food item per visit. Both alcoholic and non-alcoholic beverages are served, so you're sure to find something to match everyone's taste!

All-you-can-drink

Be sure to try one of the favorite attractions of Japanese karaoke, the all-you-can-drink special!
Sing to your heart's content while enjoying a wide selection of beverages for one price.
Some courses include alcoholic beverages as well, so take advantage of this great deal!

credit_card Leaving and settling your bill

You sang your heart out and are now ready to head home.
Grab the receipt strip you got when checking in and return to the reception area. They'll calculate your final bill based on your selected plan and how long you occupied the room.
Here are some highly-recommended shops that love to help tourists!
credit_card: Credit card card_travel: Special menu for tourist g_translate: Ordering system Foreign language support
Search for even more stores here! (*Japanese only)
JOYSOUND.com